Online Scottish Wills in Scotland Confidential Expert Solicitor
About My Scottish Will
This website is operated by Confidential Legal Services Direct Limited.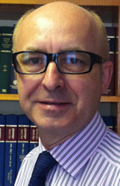 The Managing Director and Consultant to the Company is Bruce de Wert, a Scottish Solicitor in private practice and an Honorary Sheriff.
Bruce has always been interested in the Internet and the website of the legal firm of which he is the Senior Partner (Georgesons) has received various awards.
Georgesons' Website can be viewed at www.georgesons.co.uk. Bruce also has a branch office at Smiths Grant in Duns.
His ground-breaking divorce website is at www.myscottishdivorce.co.uk
He also wrote one of the first document-assembly programs for lawyers using the Wordperfect code system.
Bruce is the Principal of the firm, a Notary Public and an Honorary Sheriff. He is married with two daughters and lives in Wick.

Outside of work, Bruce is married with two daughters, is a participant in many sports including Triathlon, Cycling, Swimming, Running and Shooting.
Bruce has a private pilot's licence.
In offering this service, neither Bruce de Wert nor the company are operating as Solicitors.